Headlines:
Newman Featured In New Book.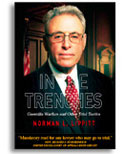 In The Trenches
by Norman L. Lippitt
Plaintiffs were minority shareholders in a construction and staffing company, Vetbuilt Building Group, Inc. (VBG). Defendant Garcia was the majority owner and president. Garcia and defendant Malacara moved staffing customers, accounts receivable and money from VBG to Malacara's company, Vetbuilt Services Inc. (VSI) and damaged the company thereby.
Inter alia, the arbitrator awarded damages against Garcia for shareholder oppression, breach of fiduciary duties, conversion and fraud. He also awarded all attorneys' fees, expert fees and costs under the statutory claims. The arbitrator also held Garcia responsible for alleged business expenses not documented for proper business purpose and taking excessive compensation.
Against, VSI, the arbitrator awarded damages to plaintiffs for wrongfully collecting and retaining VBG's receivables, and improper payments made to and for VSI by VBG.
Plaintiffs' counsel said that the most difficult aspects of the proofs were damages. VBG did not keep proper books and records, and almost all of plaintiff's damage proofs were subpoenaed from third parties. Plaintiffs' controller, Michelle Hohendorf, was extremely helpful in constructing the money trail.
Hon. Daniel P. Ryan awarded $2,252,305 in arbitration.
H. Joel Newman, counsel for plaintiffs, provided case information.
Type of action: Shareholder oppression, breach of fiduciary duties
Name of case: Johnson v Garcia
Court/Case no./Date: Michigan Judicial Arbitration Mediation Services; 14-011825-CB; Dec. 3, 2016
Tried before: Arbitration
Name of Judge: Hon. Maria Oxholm
Name of Arbitrator: Hon. Daniel P. Ryan
Case evaluation: $1 million
Arbitration award: $2,252,306
Special damages: $275,000 in attorneys' fees and costs under oppression and conversion statutes
Attorney for plaintiff: H. Joel Newman
Attorney for defendant: Avery Williams
H. Joel Newman is an attorney specializing in business litigation, commercial litigation and shareholder disputes. Practicing in Oakland County Michigan, Wayne County Michigan and Macomb County Michigan.