$4.5 MILLION SETTLEMENT IN WILL CONTEST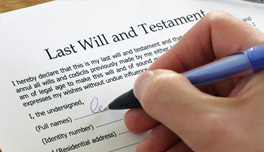 In this matter, which was featured on Court TV, we represented ten nephews and nieces in a law suit challenging their uncle's will, which purported to divide his entire estate between three charities. We developed evidence of mismanagement and fraud by one of the "charities" and began investigating the others. We obtained a $4.5 million settlement which represented a substantial portion of the entire estate. The estate also paid our client's contingency attorney fees.
See More Commercial Litigation Results
When millions of dollars are at stake, the importance of a lawyer who is an astute litigator and complex trial lawyer can not be overstated.

H. Joel Newman has decades of litigation experience in; Breach of contract, Tortious interference with business, Tortious interference with contract, Tort claims, Real Estate Zoning, General Tort Litigation, Business Fraud, Business Breakup, Breach of fiduciary duties and Shareholder Litigation. As you can see below, Joel's results speak for themselves.
BREACH OF CONTRACT
Joel was lead trial counsel representing several related corporations in this shareholder oppression litigation. Plaintiffs' Complaint alleged shareholder oppression, fraud, breaches of fiduciary duties, usurpation of corporate opportunities and self-dealing. Plaintiffs sought almost $100 million in damages. The Plaintiffs' case was eviscerated in their cross examinations. At the close of Plaintiffs' proofs, the case settled. Plaintiffs gave up all damage claims, Joel's clients waived their right to attorneys' fees from the Plaintiffs, and the case was dismissed with prejudice.
Our client, a minority stockholder, was the victim of a large freeze out of his corporation by his partners and fellow shareholders. We took over this case from a large law firm after 1 1/2 years of litigation, when the case was on the verge of dismissal. After discovering an important document and pursuing a new theory overlooked by predecessor counsel, we persuaded the court not to dismiss this shareholder litigation. Shortly thereafter, defendants came to the table and the matter was settled for $600,000. In addition, we brought a successful attorney malpractice claim against predecessor counsel.
Our client, a fifty (50%) percent stockholder in a closely held family business brought a claim for oppression and dissolution based on deadlock. Discovery was quite extensive and numerous substantive and dispositive motions were argued. Ultimately, the case went to special mediation and the confidential settlement was resolved very satisfactorily to our client.
EMPLOYMENT LAW
One of the oldest and most distinguished nationally known Michigan corporate law firms retained us to defend a sensitive sexual harassment suit brought by an employee claiming that a senior partner in the firm had sexually harassed her repeatedly. After discovery and mediation, we were successful in settling the case before trial for nuisance value.
A plant manager and former vice-president of a "big three" automobile manufacturer was terminated after a management shake-up. We started suit for breach of employment contract and after completion of discovery successfully negotiated a $1,000,000 settlement in his behalf.
We successfully defended a large regional apartment operator in a race discrimination action, obtaining a full dismissal.
We obtained lifetime hospitalization insurance for more than 200 widows of retired City of Detroit policemen and firefighters in a lawsuit against the City. Our clients, many of whom were struggling financially will receive millions of dollars in benefits as a result.
ATTORNEY MALPRACTICE
Our corporate client retained us to file a legal malpractice lawsuit against its former law firm. As a result of our client's former law firm's errors, the client was forced to settle what should have been an $800,000 matter for an amount exceeding $2 million. After engaging in significant discovery and after we completed several key depositions, defendant law firm's insurance carrier recommending facilitation—well before the case evaluation and summary disposition stage. We vigorously and thoroughly presented a compelling case and obtained a highly successful settlement through facilitation. Our client was extremely pleased with the result and transferred all of its matters to our firm.
GENERAL TORT LITIGATION
We represented the Plaintiff in this highly unusual contingency fee tort case. Our client had an extremely high paying career with a multi-national corporation. The Defendant owned a business which did millions of dollars of business with our client's employer. When the Defendant learned that our client was dating his former wife, he caused our client's employer to terminate his employment. We sued the Defendant for tortious interference with a contractual relationship and invasion of privacy. We obtained a substantial confidential settlement for our client.
INSURANCE LITIGATION
Our general contractor client hired a subcontractor to install huge windows on a large university building. The subcontractor obtained a liability insurance policy naming our client as the beneficiary. Because the subcontractor installed the windows defectively, our client incurred approximately $1,000,000 in replacement costs and the subcontractor filed for bankruptcy. We pursued claims against the subcontractor's insurance company and his insurance agent for reimbursement. After completing several key depositions, and after we successfully defeated all summary disposition motions by the insurance company and the agent, we obtained substantial settlements from each on the eve of trial.